Overview
Through acquisitions and staking programs, Canadian Orebodies has assembled a large, contiguous land package totaling 428 claim units or 6,800 hectares, along the northern extension of the Hemlo greenstone belt, (the "North Limb Property"). The North Limb Property is located 45 kilometres northeast of the town of Marathon, Ontario and 17 kilometres northeast of the Williams Mine operated by Barrick Gold Corporation. With the North Limb Property, Canadian Orebodies has consolidated, for the first time, this historically fragmented ground into one large land package.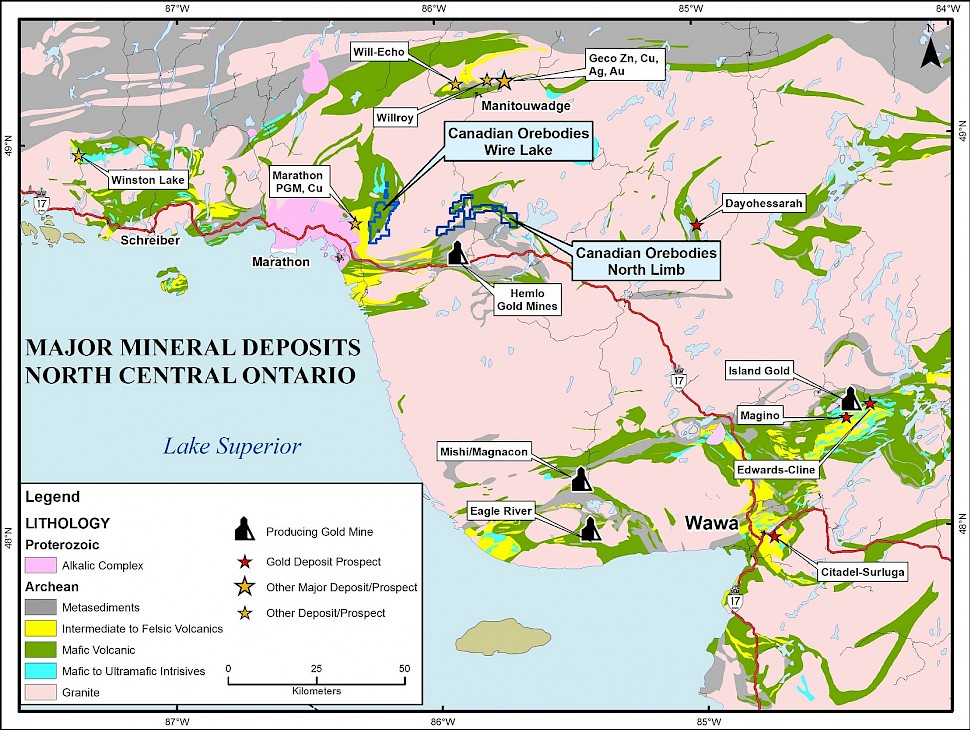 Prospecting programs were undertaken during the summer and fall of 2016 on the North Limb Property and in late 2016 the Company completed an 823 line kilometre airborne VTEM Max geophysical survey over the North Limb Property, The survey data, combined with that of the prospecting programs and historical information, has generated several new high priority drill targets, which Orebodies plans to test in 2017 by diamond drilling. For more detailed information, a copy of the NI 43-101 Technical Report on the property is available on SEDAR.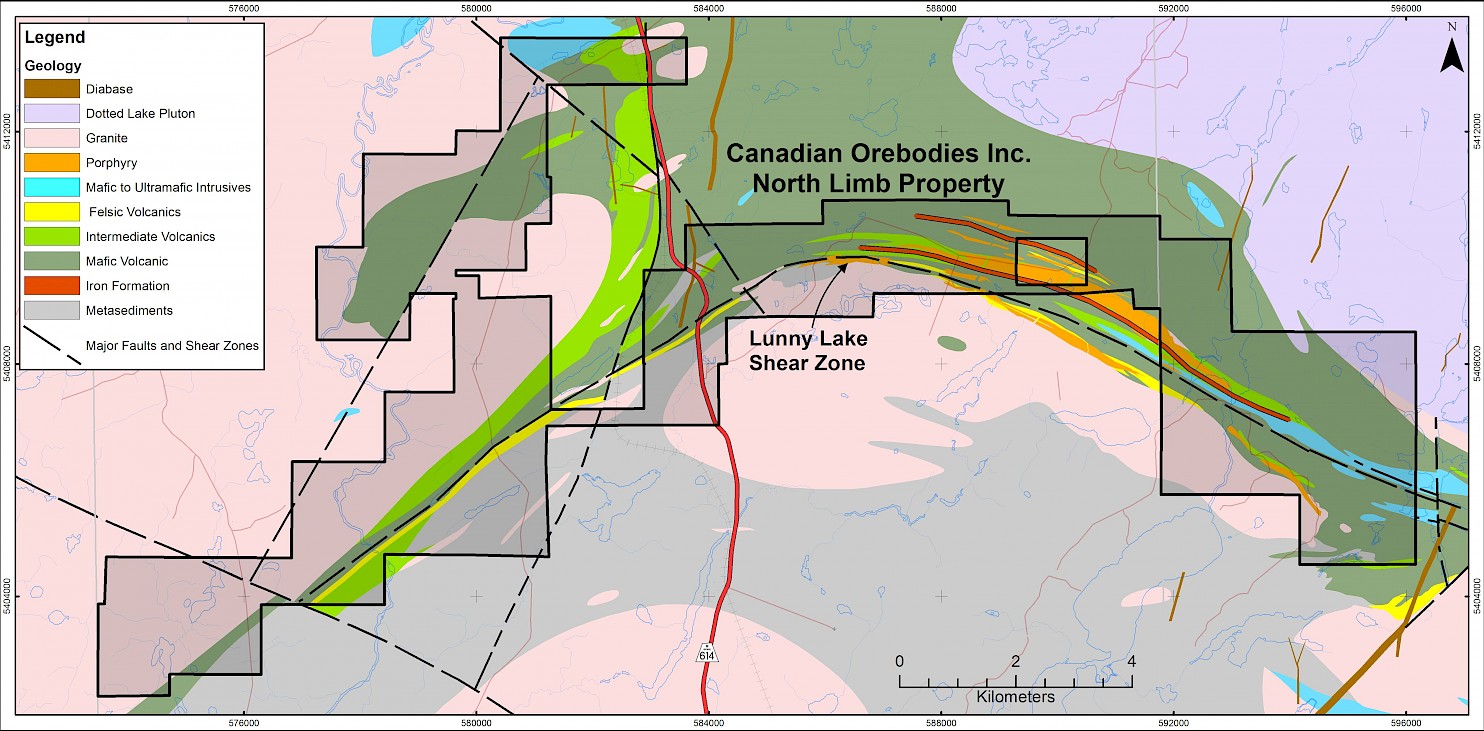 Within the North Limb Property is an area covering 78 claim units referred to as "the Tongue". This area has seen no exploration since the initial Hemlo gold rush in the 1980's and has no record of ever being drilled. The Company's interest in the Tongue lies in the belief that it is interpreted to be directly up-ice from the angular float of mafic volcanic material found to the southwest in 1994 that assayed up to 16.2 gpt Au, the source of which has never been located.
Geological Targets:
"Hemlo Style" lode gold: In the 1990's Hemlo Gold identified two high level porphyry complexes (Lunny Lake and Armand Lake) which they believed displayed similar characteristics to the Moose Lake Porphyry Complex, which is the principal host for the Hemlo Gold Deposits. Drill results included:

39.4gpt Au/1.0m from F1-95-02 and 10.8gpt Au/1.0m in F1-95-04 (Lunny Lake Porphyry)
1.4gpt Au/1.0m, 1.2gpt Au/1.0m and 2.5gpt Au/0.4m (Armand Lake Porphyry)

Iron formation gold: In the 1980's Qued Resources identified a gold-bearing iron formation over a 800 metre strike length by a series of trenches and shallow drill holes, results included:

4.7gpt Au/1.0m and 3.1gpt Au/1.0m in trenches QT-1 and QT-3
5.2gpt Au/0.3metres and 1.4gpt Au/4.0m in drill holes QD-8 and QD-1

Volcanogenic massive sulphides: McIntrye (Caravelle) Number 2 Prospect historic drill results from 1960's include:

8.2gpt Au, 1.1%Cu, 0.8%Zn, 13.7gpt Ag/2.1 m from DDH-A2
3.2gpt Au, 2.9%Cu, 2.1%Zn, 57.8gpt Ag/2.1m from DDH-W1